KONTUM MISSIONARY AND FRIENDSHIP (KMF)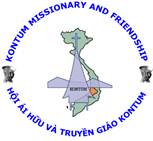 Kontum Missionary and Friendship (KMF) was founded by former Kontum seminarians in 2000 as a non-profit organization of charity recognized by the U.S. Government. KMF helps the handicapped, the leper, the orphan, the hungry, the poor, and supports the education of young students without resources in Kontum Diocese in Viet Nam, regardless of religion or ethnic origin. Everyone can join KMF by accepting its goals and supporting its activities.
All donations are tax-deductable. Federal tax identification number is 42-1757220 (valid only in USA).
 Board of Executive Directors
Executive Officers

–        Chairman of the Board

–        President

–        Secretary

–        Treasurer

Rev Hoang minh Thang

Rev Nguyen Ngoc Tam

Mr Dao Van Duc (Acting)

Mr. Dao Van Duc

 

Standing Committee

–        Finance Director

–        Communications Director

–        Strategic Planning Director

 

 

Vacant

Vacant

Mr. Nguyen Van To
BOARD OF ADVISORS
KONTUM DIOCESE
Kontum Diocese is located in the highlands of Central Vietnam. Generally, the people of Kontum have a hard life and have to face with many difficulties in many areas of life.
Kontum is also a region with many lepers. With more than 38 ethnic races, a majority of them live in poor conditions, malnutrition, sickness and they need a lot of help and care to reduce their suffering.
Since the arriving of Catholic religion in Vietnam, the Church has really involved in the care of improving people's condition of life; however, the diocese has limited human work force. Therefore, the diocese put a lot of hope and trust in new ministers and charity volunteers to lend a helping hand in the great field of missionary.
The diocese covers two regions: Kontum and Pleiku with 249 parishes.
Area: 25,730 Km2
Population: 1,450.000
Catholics: 203.723
Vietnamese: 49%
Ethnic races: 51%