Interview with Rev. F-X. Nguyễn Ngọc Tâm, Vice President of Kontum Missionary and Friendship (KMF)
By Nguyễn Văn Tố, translated from Vietnamese by Phuc Jean.
14 Dec. 2012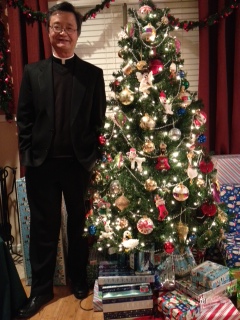 1) Father, Could you please give some information about yourself to readers of LLCVK bulletin and KMF website www.giupkontum.org.
Rev Tâm: Thank you. I was born in Hà Tĩnh, North Vietnam, then moved to the South during the Southward Exodus in 1955. I entered Kontum Seminary in 1962. In 1975 I went to USA, received the Bachelor degree in finance and accounting, (with minor in philosophy as the US University accepted my three years' credits of Philosophy at the Faculty of Letters, Saigon University ). Then I entered St. Meinrad Seminary, Indiana to study Theology for 4 years . I was ordained priest in 1982.
In 1987, I studied Canon Law in Rome then came back to USA to work as university chaplain and parish priest at various places, the last one as pastor at Christ the King church, Oklahoma, until 2011. In addition, I also served as presiding judge of the diocesan Marriage Tribunal, member of the Board of Advisors, Personnel Board and Council of Priests.
2) Last year, you resigned from your position in USA to serve Kontum Diocese for quite a long time. Please let us know what was the motive behind that decision and your thoughts after your service in Kontum Diocese.
Rev Tâm: When I was ordained priest in 1982, Bishop Seitz wrote me a rather long and sentimental letter that I still keep with me. In that letter, he advised me to keep in mind the intention to return to Vietnam to work. As time went on, the opportunity to return to Vietnam became almost impossible. Finally, at the Bishop of Kontum's invitation and with the approval of the Tulsa Diocese Bishop, I went back there on one year sabbatical .
Kontum Diocese is quite different from other dioceses as half of the Catholics there are of Kinh population and the rest is of ethnic minorities (Montagnards) . Pastoral works for Montagnards require special and more difficult approaches. Our Montagnard brothers have their own languages, cultures and customs that must be respected with sincere love by the clergy.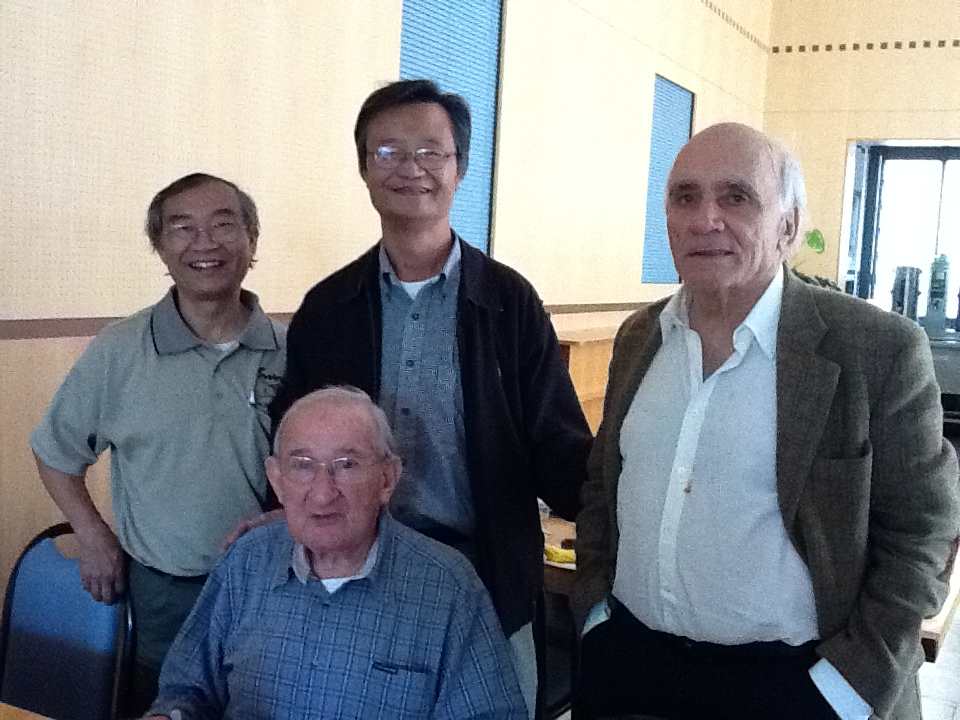 In June 2012, meeting former teachers at MEP, Paris to rekindle sentiments towards teachers, classmates, schoolmates of CVK overseas and in Vietnam. (Standing from left to right: Thái, Rev. Tâm, Rev. Mais (Ngô thành Mai), and Rev. Lange (seated)
They are the most underprivileged victims by government policies, abusive treatments from some Kinh people, of the changes in a society pursuing material interests , a moral deterioration spreading all over the country. Therefore the Church has to cope with these pastoral challenges: training, meeting educational needs, daily life needs, all requires great efforts of a team of priests, religious and yaophus (cathechists) that are willing to devote themselves to the mission with deep spiritual life.
I am deeply impressed by the services of bishops, priests, nuns, Yaophus (cathechists) who have been working in many areas of Kontum Diocese, facing a lot of difficulties. In remote areas, besides difficulties of daily life, they must cope with unreasonable restrictions on religious activities. Visits to parishes and conversations with priests in those remote areas gave me a different perspective on pastoral works from what I have been accustomed to in the USA. They are experiences enriching the life of a priest's pastoral ministry.
Naturally, I was very glad that I could return to live on the land where I had grown up since my childhood, in a small room of the seminary that had treasured my fond memories with my dear friends. All that coupled with my frequent visits to relatives and meeting with friends made my one year's stay in Vietnam the most valuable time of mine. Some of my friends in Vietnam were very surprised to learn that I had decided to return to Vietnam. They thought I might stay there three months at the longest. I have proved that they were wrong. In fact, they were partly right.
3) After coming back to the USA, you have been assigned to be chaplain for a big hospital. Please let us know your feelings about this new job.
Father Tâm: St. Francis hospital is the largest Catholic hospital in Oklahoma, with 8000 employees. It is here that almost 2 years ago Bishop Michael of Kontum Diocese received a cardiac defibrillator implant. (Rev Thể underwent a heart surgery at St. John hospital, here in Tulsa too, nearly 10 years ago). Pastoral care is an important activity here. We are altogether 3 priests, 6 nuns and 6 lay chaplains. The priests celebrate masses and administer sacraments of Anointing of the sick, Reconciliation and Eucharist to Catholic patients.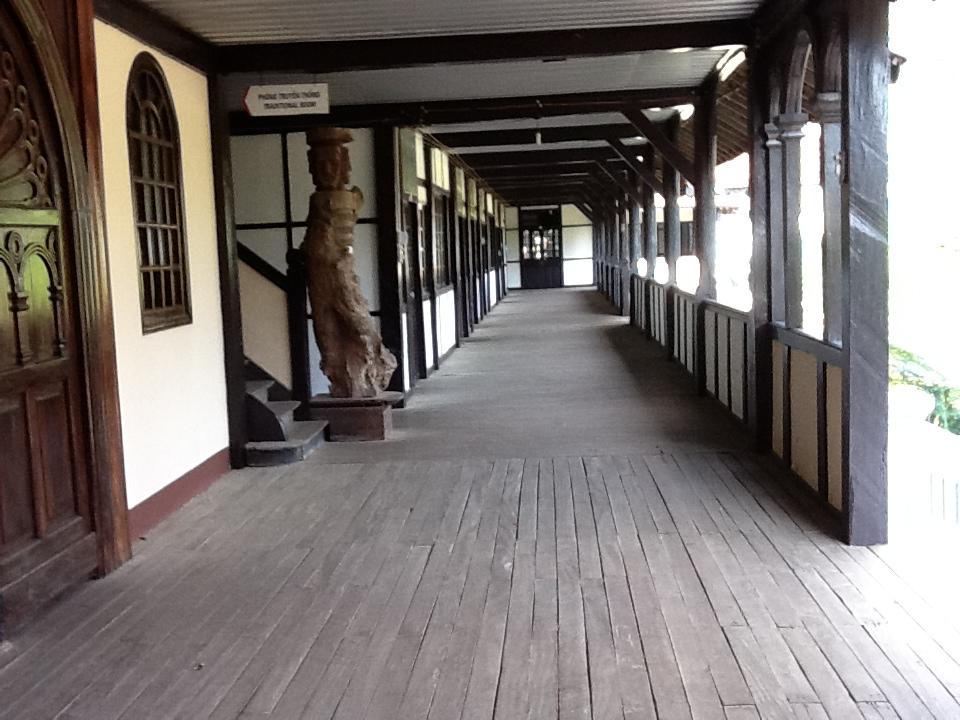 Corridor of the seminary. Everyday, I took a walk on this corridor. So many memories came back to my mind. Generations of seminarians had walked on this corridor. They had stood in lines to walk into the chapel to say evening prayers (the door to the chapel on the left). During afternoon recreation, if it rained, they had to stand here and watch the rain. There had been times when it rained heavily. It rained cats and dogs. It rained like showers on the grass, on the Frangipane trees, on the football playgrounds. Here I was again standing alone watching the rain. As some author had written, it rained out there and it rained in my heart.
But administering sacraments alone is not enough. Pastoral care also consists of visits, understanding, consoling, and praying for the patients. When being sick, man experiences weakness, helplessness and sometimes a need to change his way of life. The chaplain is there to support, guide the patients towards God to receive strength and hope from Him. In this way, the priest has given the patients the encouragement when they need it most and thus he carries out the healing ministry that Jesus practiced during his three years' preaching.
I do not know how long I will work as a hospital chaplain, maybe 2,3 or 5 years or longer. But it is really a "nice break", as the English put it, after almost thirty years working in a parish, especially eleven years at Christ the King that demands the skills to manage a large parish. I am sure you have the same feeling as mine as you had taken senior management positions at U.N. before you retired. And as a result KMF now benefits from your contributions in terms of time and efforts. Our friend Thái in Paris is in the same situation. Maybe in the next 5 years I will retire like both of you and have more time for KMF.
4) As the vice president of Kontum Missionary and Friendship (KMF), please let us know your assessment of the past activities of KMF and your reflections on how to make KMF develop further so as to give more aids to the underprivileged people in Kontum Diocese.
Rev Tâm: KMF is a contribution of mind, efforts and time of the Management Team and other local and overseas donors, Those contributions are the proof of cooperation with the clergy and nuns in different projects of Kontum diocese. The results of these projects have improved the living conditions of our ethnic minorities population. However, demands still overwhelm supplies in many fields. Like many of you, I was emotionally tormented to see children underfed in orphanages, youth unable to go to school and patients deprived of minimum health care. KMF is growing strong, but not strong enough.
My wish is to have more and more donors and contributors to KMF. For former Kontum seminarians (CVKers), it is also a duty, an expression of gratitude towards our diocese.
On the other hand, the Christian fraternal love does not allow us to ignore our brothers' needs. Starting with a feeling of gratitude for blessings, privileges that we have received, we shall open our hearts to offer our efforts, time and wealth to lend a hand to the clergy, religious, yaophus (cathechists) of Kontum Diocese to help our underprivileged brothers. I pray God to give His blessings on KMF works and to bless all the benefactors who have made donations and contributions during the past few years.
The challenge for KMF, I think, is how to make KMF known to many people. We should not ignore the important role of Internet. Website is an important development in communications. One simple work that everyone can do is to introduce KMF website to friends. Priests recommend it to parishioners. If all CVKers and friends do this, then the number of donors will increase significantly day after day.
How can we call on all CVKers and friends to be aware of that need? Shall we need to officially launch a campaign? We can note that many CVKers have given a lot of their time, efforts and wealth. But there still remains many CVKers who still play a role of onlookers and do not yet actively participate in KMF programs.
As for good examples, we can cite Rev Giảng and Rev Thân with their successful fund-raising events. We may have to search around and find new parishes in Vietnam and overseas that have the capacity to organize such fund raising events. I think we can take after such examples of success.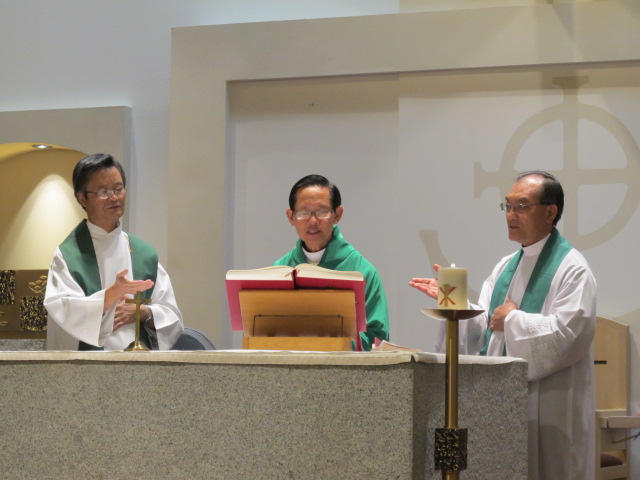 Rev Tâm, Rev Thân and Monsignor Thắng celebrating mass at Rev Thân's St Bernadette church, Vancouver, on occasion of Night of Love fund raising banquet for KMF organized by Rev Thân on 19 September 2012.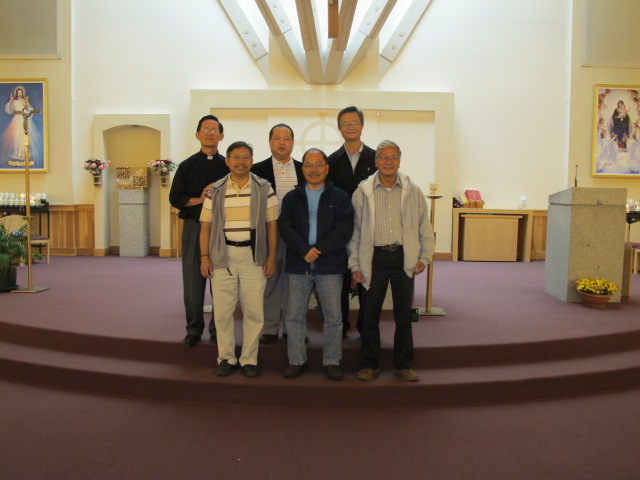 Inside St Bernadette church, Vancouver: in front, from left to right : Đào Văn Đức, KMF's Treasurer, Nguyễn Văn Tố, Mr Hùng; at the back, from right to left : Rev. Nguyễn Ngọc Tâm, Mr. Phạm Hùng Sơn, KMF's secretary general, and Rev. Bùi Đình Thân, pastor of St Bernadete parish.
5) Thank you for your information, particularly your practical suggestions to develop KMF. I hope many CVKers, especially parish priests in Vietnam and overseas will support these suggestions. At the beginning of 2013, may I wish you a happy new year, good health and holy graces to keep you steadfast on your way of serving other people.
Rev Tâm: Thank you for giving me an opportunity to express my ideas and sentiments to our friends and benefactors all over the world. On this occasion, I wish you a Merry Christmas, full of joy and peace, a happy and successful new year.