Fundraising Letter for the 2019 Lenten Season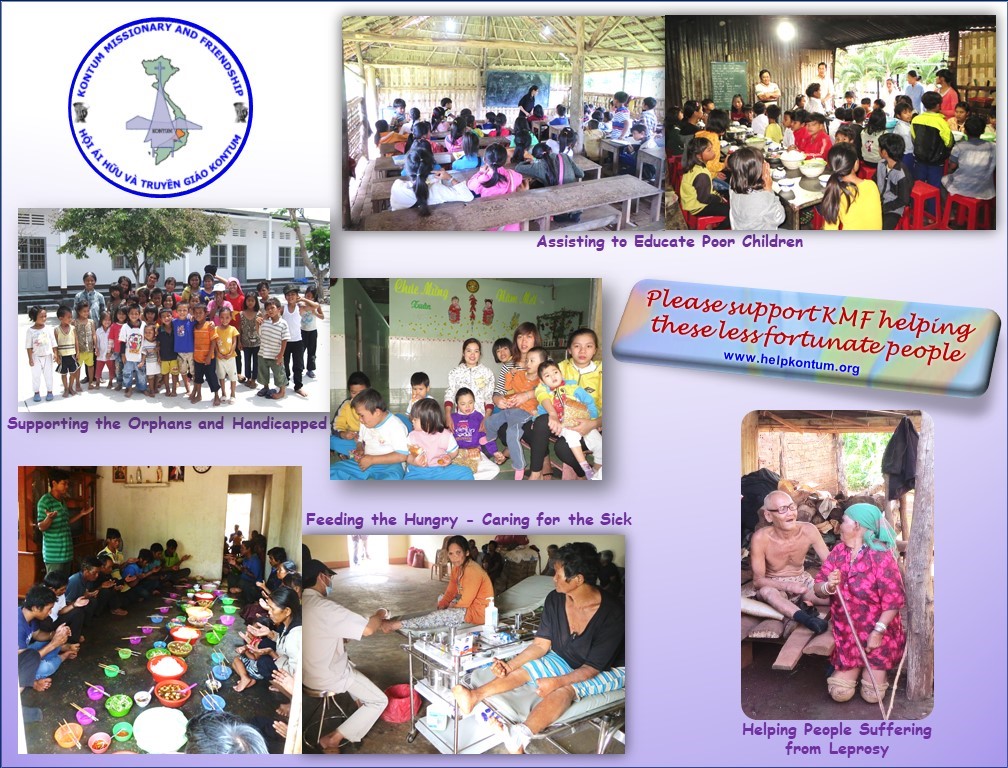 "Truly I tell you, whatever you did for one of the least of these brothers and sisters of mine,
you did for me" (Mathew 25, 40)
Dear CVK-KMF Members and Benefactors.
We are about to enter Lent, a blessed time for reconciliation and penitence, fasting and good deeds to prepare our spirit for the celebration of Easter, our remembrance for the Great Event of our Lord Jesus Christ, the son of God who suffered, died and rose again to save the world.
Since he was chosen to be the Pastor of the Catholic Church, our Pope Francis has continued asking everyone to live and act on Christ's Good Word in accordance with his love and generosity, to venture out of our life of security and comfort into other neighborhoods and to meet our less fortunate brothers and sisters. He also discussed and shed more light on the love and mercy from the point of view of concrete actions by opening our heart, the door to our house, and extend our embrace and mercy towards all of our brothers and sisters who are leading a life of poverty, diseases, sorrow, discarded from society.
True to our tradition since 2001, KMF will begin a fund drive as an initiative to renew our life that our Lord Jesus Christ has redeemed via Easter.
The Good News of Love from our Lord Jesus Christ invites us to have a big heart, to live a life of sharing and concerns towards others, to encourage each other in living with generosity, in doing good deeds and to walk together in Christ's way of goodness. That it is why, there is no greater concrete and effective way to show our love to our Lord Jesus Christ than to live and ardently follow his teaching:
"Truly, I tell you, whatever you did for one of the least of these brothers and sisters of mine, you did for me" (Mathew 25, 40).
Those are also the words and constant teachings from Francis since he became our Pope: courageously stepping out of our comfortable life to encourage the culture of meeting, interfacing, sharing, and to fight against the culture of money worshipping, material gains, power, egoism, discarding others, including the young, and, especially, the poor, the old, the diseased, and the weakest.
We have been trying to follow our Pope and God's teaching during Lent from past years to help the diocese of Kontum's montagnards through the following 4 initiatives:
1. Healthcare for the Poor
2. Education Assistance for Poor Students
3. Healthcare Assistance for the Lepers
4. Assistance for the Orphans and Handicapped
During the 2019 year, KMF requests your continued financial assistance for the above four selected programs. All your contributions will be used strictly and efficiently to fund those programs. To learn more about these KMF initiatives, please visit www.helpkontum.org.
Please consider your donations to the less fortunate people in Kontum by one of the followings:
1. Donate online at www.helpkontum.org
or PayPal: indicate helpkontum@yahoo.com as recipient
2. Direct deposit to Bank of America: Routing # 026009395; Account # 3250 4853 3887
3. Send checks or money orders, payable to Kontum Missionary and Friendship, to:
Thanh Pham, 9108 Caladium Ave., Fountain Valley, CA 92708
4. In Vietnam, send contributions to the KMF representative:
Mr. Nguyen Anh Vo, 12B B1, Chung Cu Orient, 331 Ben Van Don, Q.4, HCM, Vietnam
Phone: 0917 377 160. Email: vonguyen67@gmail.com
Donations from the US may be tax deductible in accordance with IRS regulations, and your contributions will be acknowledged by KMF via a written response. In addition, prayers for you, your love ones, and your family will be offered monthly.
On behalf of those less fortunate, the poor, and the diseased of the Kontum diocese, we offer our sincere thanks for your generosity. We warmly wish you a pious Lent and a 2019 Happy Easter full of the grace of God who offers great rewards in the after life to those with acts generosity and good deeds towards others.
Vatican the 3rd of March, 2019


Msgr. Joseph Thang Minh Hoang
Chairman, KMF
palestina2010@gmail.com