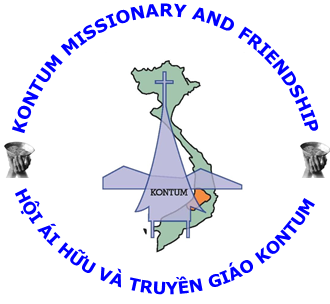 KMF's 2020 Lent Fundraising Appeal Letter
"Whatever you did to one of the least of these my brethren, you did to me" (Mt 25:40)
'For I was hungry and you gave me food, I was thirsty and you gave me drink, I was a stranger and you welcomed me,
I was naked and you clothed me, I was sick and you visited me, I was in prison and you came to me.' (Mt 25:35-36)
Dear Friends and Benefactors,
 With Ash Wednesday Lent having begun, which is truly a special time in our journey of faith, we are encouraged to spend more in praying, fasting and doing charity works. 
"Whatever you did for one of these least brothers of mine, you did for me."(Mt., 25.40), Jesus reminds us.
For the last twenty years KMF has devoted its efforts to improve the lives of these least brothers and sisters in Kontum region. We are grateful to your sacrificial gifts. 
We are asking you to continue to help us in this Lenten fund-raising. Your generous contributions will help changing lives of children who need food and education, of men and women who struggle with illness and poverty. 
May God bless you and your family with His abundance grace. 
Following is the Letter of Appeal by Monsignor Joseph Hoang Minh Thang, KMF's Chairman.
Rev. Tam N. Nguyen
Tulsa-Oklahoma
Dear CVK and KMF benefactors and friends,
On the International Day of the Poor celebrated for the 3rd time on the 17 November 2019, Pope Francis presided over a Mass in St Peter Cathedral in Rom for thousands of poor people of all races and nationalities. After the Mass, Pope Francis shared the meal with 1500 poor people in the Paul VI Auditorium, with a menu appropriate for all religions.
In His sermon during the Mass, Pope Francis urged all of us to listen to the cry for help from the poor as an invitation for us to move out of our own self. Being labeled Catholic or Christian is not enough to belong to Christ. We need to practice solidarity and charity in a most concrete way in order to be called disciples of Christ. Otherwise we may be reprimanded as hypocrites as Jesus did to the Pharisees!
The poor are the Church's Treasury, are the people that God Loves, are the guardians of the Gate of Heaven. They are our saviors as they represent the face of Christ. They are our passports to Paradise. The poor have been at the heart of Pope Francis' pastoral mission. They are the very reason Pope Francis has taken many bold initiatives, such as creating a home next to the Vatican City to allow the homeless to come for shower, do their laundry or get a haircut etc.
In his sermons and speeches, Pope Francis keeps reminding us of the poor and denouncing the indifference of our present society towards them. People prefer to follow those spreading rumors and fears incriminating the poor, pushing them to grab everything and immediately for oneself, instead of sharing with generosity.
People have no more time for God and the others. They consider the poor as a nuisance, they abandon the old, the handicapped, the unborn children: they consider them all as "useless"! The situation in which the poor find themselves in today in our society is the consequence of the will of a few to own most of the world resources.
Dear CVK and KMF benefactors and friends,
Thanks to the generous support from all donors and friends, KMF has been able to provide love and care to the poor people in the Central Highlands of Viet Nam since the year 2000.
The 2020 upcoming Lent season invites us all to again show our solidarity and generosity towards our less fortunate brothers and sisters who are in need of our support. We can thus give them some hope, some smile on their face, some consolation and encouragement, and some warmth of love and compassion.
All your contributions will be used to support our activities in favor of the poor people in the diocese of Kontum, through the following 4 main programs:
Healthcare for the Poor
Education Assistance for Poor Students
Healthcare Assistance for the Lepers
Assistance for the Orphans and Handicapped
To learn more about these KMF initiatives, please visit www.helpkontum.org
Please consider your donations to the less fortunate people in Kontum by one of the followings:
Donate online at helpkontum.org
or PayPal: please indicate helpkontum@yahoo.com as recipient.
Direct deposit to Chase Bank: Routing # 322271627; Account # 3697352616
Send checks or money orders, payable to Kontum Missionary and Friendship, to:
Thanh Pham, 9108 Caladium Ave., Fountain Valley, CA 92708, USA
In Vietnam, please send contributions to the KMF representative:
Mr. Nguyen Anh Vo, 12B B1, Chung Cu Orient, 331 Ben Van Don, Q.4, HCM, Vietnam. Phone:0917 377 160. Email: vonguyen67@gmail.com
For donors living in France and in euro countries (eurozone), you may donate in EURO directly into KMF France account as follows:
Banque: 3002; Indicatif: 08944; Numéro de compte: 0000070016Z; Clé RIB: 57; Domiciliation: CL Montigny BTX Manet.
Pour des virements internationaux: IBAN: FR49 3000 2089 4400 0007 0016Z57; Code BIC: CRLYFRPP
Ou envoyer des chèques libellés à l'ordre de KMF France à: LES AMIS DE KONTUM, 91 RUE CHATEAUBRIAND, 78180 MONTIGNY-LE-BRETONNEUX, France.
All your donations are tax deductible at the end of fiscal year in USA and in France. All donors will receive thank you letters of KMF. Moreover, CVK-KMF priests will celebrate masses for you and your relatives on a regular basis.
On behalf of the poor, the needy and the sick people in Kontum Diocese, we thank you all, friends and benefactors, for your generosity. We wish all of you the Lent full of graces and love from God, who will generously reward all your deeds of love and generosity.
Yours sincerely,
Roma, 25 February 2020
On behalf of KMF Management team,

Mgr Joseph Hoang Minh Thang
Chairman of Kontum Missionary and Friendship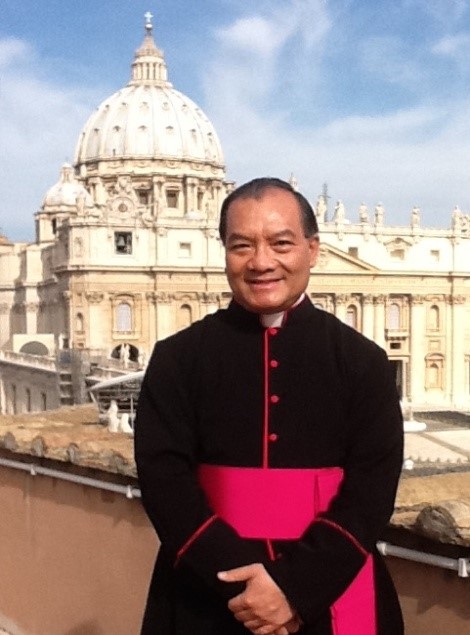 Email: hoangminhthanggiuseppe@gmail.com