A good deal for ethnic groups from fair trade scheme
Nuns ease ethnic trade burdens in Vietnam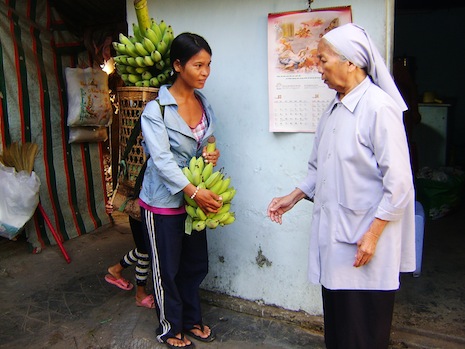 With big bunches of bananas on their backs, it takes Marie Y Thuong and her six-year-old daughter seven hours to walk from their village to the Saint Paul de Chartres convent in Kontum City.
But it's a journey Marie is happy to make, because she gets a fair deal when she exchanges her bananas for other food staples there.
"For each hand of bananas, we get five
loaves of bread, two bottles of soft drink, a package of instant noodles and 20 kilos of rice," she says.  "The nuns also give us bags of second-hand clothes and we're given meals, salt, fish sauce, sweets and money before returning home."
This makes a welcome change for the 34-year-old mother of four, who cultivates bananas on a 1,500 square meter holding. Like other members of the Bahnar ethnic group, she used to take her produce to a local market where the wholesalers paid the barest minimum for it.
"We had no option but to sell our products at those prices," she says. "But it meant we couldn't even afford to pay for basic necessities."
The nuns at Saint Paul de Chartres have been operating their fair trade scheme since 2009.  As well as bananas, they accept cassava, melons, bamboo shoots and other fruits for exchange.
"We get about 100 to 200 villagers every day, from the Bahnar, Jarai, Rongao and Sodang ethnic groups," says Sister Marguerite Vo Thi Thanh Huong,
"Each day we give out 2,000-3,000 kilos of rice, 2,000 kilos of instant noodles and four million dong in other foods and goods."
Sister Huong, one of 12 nuns at the convent, says she got the idea for the scheme when she visited the many ethnic villages in this remote part of the central highlands.
"I saw they were living on bananas and cassava alone, as they were selling their bananas at such low prices, they didn't have money to buy any other food," she says.
"So I asked local priests to help save them from starvation by offering a fair exchanging of rice or money for their bananas."
Around 30 parish priests and other benefactors have entered the scheme, supplying rice, cooking oil, salt, dry fish and cash in exchange for the villagers' produce.
"The priests then distribute the bananas to students, orphans, patients and elderly people," says Sister Huong.